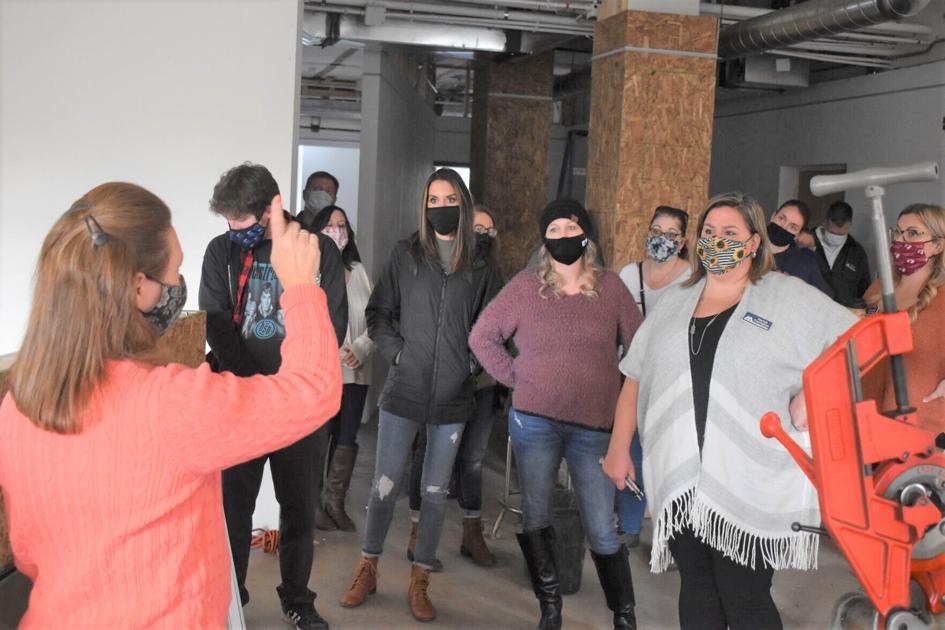 Budding Leaders Visit Marion County Schools | Life
FAIRMONT – The future leaders of Marion County are in good hands.
The "next generation" of local Marion County leaders gathered at the central school board office on Thursday to kick off a tour of the school system.
Marion Leadership is a citizenship-focused program, led by the Marion County Chamber of Commerce, where community members learn about different aspects of the community to create a sense of engagement.
Each Marion Leadership class takes monthly trips to discover facets of the community, and on Thursday the 2021 class jumped from school to school to get a feel for how things work and who the key players in the education system are. .
The students heard from principals, administrators, coaches and teachers who followed the class of 20 adults from all careers and backgrounds and showed them what kind of programs schools are committed to.
"We are so excited to be able to showcase the great things that are happening at schools in Marion County," said Marion County School Superintendent Donna Hage. "The places they have chosen to visit … bear witness to the objectives that [the schools] have implemented this year.
One of the first stops was the Marion County Tech Center, where students from across the county are sent to learn trades and careers if they choose a post-secondary path that doesn't include college.
The class toured the facilities and got an overview of the various classes and certification programs offered by the school. Lunch was then served to them, thanks to the centre's Pro-Start program.
Marion, leadership student, Mariah Cunningham, who works for Allstar Ecology at Fairmont, was surprised to see what the tech center has to offer for students in Marion County.
"I was impressed that [students] they're not just getting experience, they're actually getting licenses to graduate and be able to get into a job, that's pretty exciting, "Cunningham said. "They can do it without going through college, which I think has been looked at for quite some time, so I'm glad it's more prevalent."
The group also visited North Marion High next door and took a look at its sports facilities. They received an overview of the NMHS track and field program and then toured the East-West Fairmont Stadium.
The last stop for the class before their debriefing at the central office was a tour of East Fairmont Middle School. Earlier today, the group visited the smaller secondary school in Monongah and noted the varying sizes of schools in the county.
East Fairmont Middle School principal Debra Conover, who is also a member of this year's Marion Leadership class, played the double by giving her classmates a school tour guide.
Conover was very excited to show off the county's work to complete the STEAM room – where students from across the county are brought by bus to learn about science, technology, engineering, art, and math.
"It was great to show how proud we are of our school," Conover said after his tour. "We need to show what the students do and how they present their work and how proud teachers are of their students' work. We have shown how much of a community we are here on the East Side.
After a tour of the temporary STEAM room inside the college proper, the group crossed the street to the former East Fairmont Middle School, where the permanent STEAM room is being built.
When complete, the hall will house all kinds of interactive stations and classes for students and community members across the county.
Leadership Marion's trip to schools is just one example of the career development work praised by her "students". Conover and Cunningham agreed that Leadership Marion provides students with a great insight into local government and public services, but is also a great way to network with others.
"I have a lot of networking here now. Our [school] advisers talked about a job fair, well here are 20 people to contact, "Conover said. "Just to keep in touch with things going on in the community, I knew a lot of these programs, but I didn't know everything they were doing.
Cunningham said having so many connections across a large list of careers and fields will undoubtedly be an incredible asset to his work in the community.
"We have very, very diverse careers. We are able to build on the experiences and leadership roles we have played as well as exposure to new boards, "said Cunningham. "I know a number of us joined new boards just because we were part of this group together. We have a very deep desire to be part of our community.