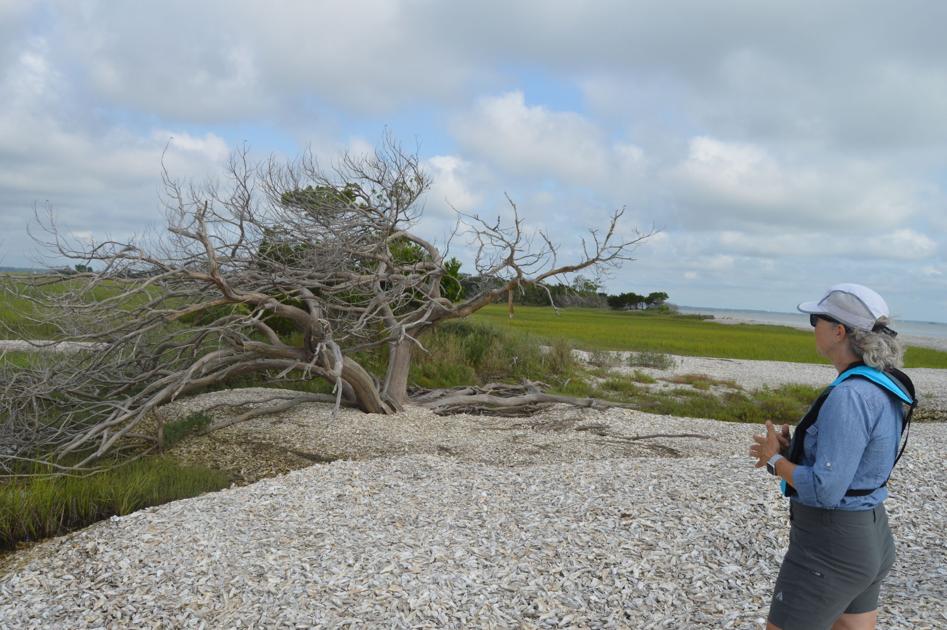 Ecotourism Certificate Program Aims To Educate Local Guides | Local News
Most of the most picturesque places on the Georgian coast are best known by boat. These locations are also often used for purposes critical to coastal ecology.
Ecotours are an ideal way for nature lovers and visitors to the coast to see these areas. A new certification program developed by the University of Georgia Marine Extension and Georgia Sea Grant, in collaboration with Manomet, Inc., aims to ensure ecotourist guides educate visitors about nature and how to protect coastal areas.
The Coastal Awareness and Responsible Ecotourism, or CARE, program is led by marine educators from UGA and provides ecotourism businesses with tools to implement best practices for nautical tourism activities.
"We're talking about coastal ecology and some of the extreme tides that we are experiencing," said Katie Higgins, environmental educator and volunteer coordinator at UGA Marine Extension and Georgia Sea Grant, during a recent visit to the Wassaw Strait at Savannah. "We talk about human ties to the coast, and we also talk about what it is to be a responsible eco-guide. "
A group of coastal tour guides were the first to be certified earlier this year. Each took a 16-hour course focusing on recreational use and potential disturbance of coastal habitats, which has serious implications for wildlife, especially shorebirds.
"One of the things we talk about in the course is really how can you see these cool places near the wildlife and not disturb them?" said Abby Sterling, shorebird biologist at Manomet, Inc., and co-creator of the CARE program.
Course participants also received a waterproof field guide.
"It shows where you can go and the different regulations," Sterling said.
Brooke Vallaster, a tour guide with Coastal Outdoor Adventures, based in St. Simons Island, was among the first cohort to achieve CARE certification.
"I really love seeing the effort just to make us better stewards of the coast, so being a part of that was really cool," said Vallaster.
Coastal Outdoor Adventures offers charter fishing and eco-tours, which include swamp tours, birding programs and more. Vallaster also runs children's science and fishing camps as well as the Ocean Lab program at St. Simons Elementary School.
"A lot of our local species are really unique to the Georgian coast, which is fantastic, and people come here from all over the world to really enjoy these things and get a feel for them," Vallaster said.
Participants in the UGA certification program, which offer kayak, paddleboard, or boat trips, graduated ahead of the spring bird migration and summer tourist season, allowing them to share the information learned from the program with others. tourists.
Georgia's coast is extremely important for migrating shorebirds, which use the areas along the coast for resting and feeding on their long journeys from the Arctic to South America and back again.
A recent tour included a stop at a spit of land in the Warsaw Strait formed by a large storm and made up mostly of oyster shells. This temporary resting place is among many chosen in coastal Georgia by birds as they complete their migration.
"Places like this are great because if you take people out and show them something like that, and you know the story behind the birds and you can tell that this bird is from the arctic and that it nests in the tundra, I feel like it creates so much excitement for people, "Sterling said.
The CARE program also hopes to create additional perspectives on these important areas and connect with tourists, ecotourist guides and the conservation community.
"If someone who makes a living taking people to see shorebirds and see all these other places understands all of these implications, they're the ones who can say, 'Hey, this is really sensitive here,'" he said. Sterling said.
The CARE program, which is funded by a Coastal Incentive Grant provided by the Coastal Resources Division of the Georgia Department of Natural Resources, has a significant focus on shorebirds as well as other marine education topics. and coastal ecology.
"That was really one of the main reasons that UGA Marine Extension and Manomet wanted to build this program, is because these places are so important and really sensitive," Sterling said. "We wanted to kind of help educate people and raise awareness of their importance and tell people these stories behind these places so that they can share those stories with all the tourists passing by, but also access them in a way that don't create disruption.
The coast is home to an average of around 300,000 shorebirds throughout the year.
"We have a very mild climate which makes it wonderful for tourism and ecotourism, but it also means birds really need our coast all calendar year," Sterling said.
Higgins and his associates at Manomet plan to offer the UGA course again in February 2022.
More information on the program as well as a map of certified guides are available at gacoast.uga.edu/care/.
"It is important for people who come to visit the Georgian coast to look for guides certified by the CARE program, because they are the ones who go the extra mile to make sure they know what is going on," Higgins said. . "They know the coast very well and are dedicated to making sure we all have access to the coast."