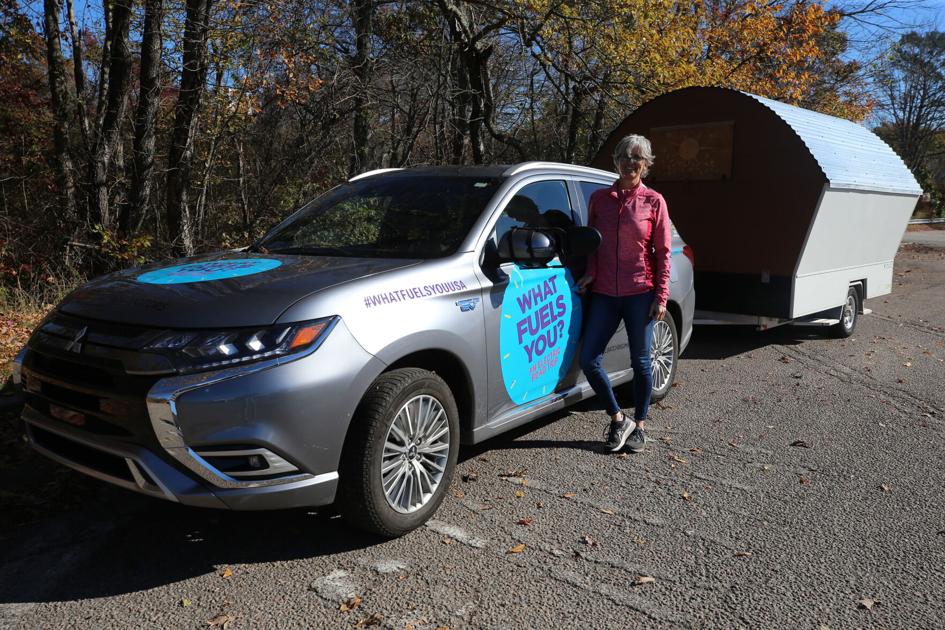 'Epic eco-tour': Minnesota woman on cross-country trip says she found a spark in Little Rhody | West
NORTH STONINGTON – Erika Gilsdorf had only planned to spend a day, maybe two, in Rhode Island on her way back to Minnesota. After all, said the 54-year-old video producer, people kept telling her there wasn't much to see in such a small state.
In the end, Gilsdorf – driving his gray electric Mitsubishi Outlander PHEV with the question "What is driving you?" "Posted on the doorstep, and pulling her tiny house behind her – ended up staying an entire week in the ocean state, making it the longest stop on a trip designed to highlight" the right people doing the right things "to save the planet.
"It's amazing what's going on over there," said the Minneapolis native during a pit stop in North Stonington as she headed first to the Thimble Islands and then to Long Island on the way. the final leg of his 12-month solo trip across the country. "It's so wonderful. I'm in love with it."
In his quest to find 'original thinkers' and to present 'big-hearted small-batch workers' focused on 'creating a better and more sustainable world for future generations', Gilsdorf hit the jackpot in the small Rhody, she said.
Gilsdorf, who embarked on her road trip from Detroit Lakes, Minn. Determined last January to tell upbeat stories about "cool people" across the country doing "cool things to save the planet," visited Merner's Earth. Care Farm in Charlestown, the Brintons' Gray Sail Brewing in Westerly, and the five properties at the Rhode Island National Wildlife Refuge complex during her week-long stay in the state.
"I hated leaving," said Gilsdorf, who produced videos on sustainable tourism, protection of rainforest and coral reefs, and one for National Geographic Wild Chronicles before she embarks on creating a series to help "raise awareness of the role transportation electrification can play in tackling our climate crisis."
"It was difficult to leave," she said. "I was having too much fun."
Before arranging the road trip, Gilsdorf said she was discouraged. Her efforts to spread the word about the dismal state of the environment and the climate change crisis, she said, seemed unsuccessful. How could she best let people know that everyone must actively work together to save the planet, she wondered.
She wanted to find a way to "motivate people without bringing sadness," she said, and she also wanted to learn more about electric vehicles and find out how to live more simply.
"This is it," she said, she decided one day. "I'm going to take a trip across the country on my own in an electric car and find good people doing good things."
A friend helped her build her small house and, on a whim, she contacted Mitsubishi Motors.
"There you go," she said, "they said they would sponsor me."
"Mitsubishi Motors applauds those who are not afraid to go their own way," said Mark Chaffin, Mitsubishi chief operating officer, in a statement. "Erika Gilsdorf is one of those people. Her mission to find and document the stories of other change makers really resonated with us, and the Outlander PHEV, which combines quiet and efficient EV technology with the capabilities of an SUV, is the ideal companion for his epic eco-tour. "
Gilsdorf, who has spent the past 10 months capturing "the good things" – great stories about people growing food in their backyards, getting rid of plastic wrappers in their businesses, and volunteering their time to teach to people the importance of protecting and respecting wildlife – said she was thrilled to see so much happening in Rhode Island. She loved her time at Earth Care Farm and was fascinated to learn more about the carbon capture machine used by Gray Sail Brewing Company.
"I didn't even know there was a carbon shortage," said Gilsdorf, applauding the Brintons for applying the system, which captures, stores and reuses carbon.
At Earth Care Farm, Gilsdorf met owner Jayne Merner Senecal, whose father, Michael Merner, started the composting operation in 1977, making it the oldest operating agricultural composting operation in the state.
"I took her for an in-depth walk through the fields and the compost production area," Merner Senecal said, noting that Gilsdorf filmed a segment on the farm for her "What feeds you? " blog and Instagram page.
"At one point… I pulled a giant carrot out of the compost laden field," Merner Senecal said in an email Friday afternoon. "It really helped illustrate the link between compost, soil health and crop quality."
"There are so many inspiring things happening across the country to help with climate change, and she has a wonderful role to play in highlighting them," said Merner Senecal. "We need more good news … there is so much!"
On top of all this, Gildorf said, she was able to visit each of the refuges operated by the United States Fish and Wildlife Service – Sachuest, Trustom Pond, Ninigret, Chafee and Block Island.
"I just spent some time in nature," said Gilsdorf, who stopped by dozens of national wildlife refuges on her trip across the country. "And I met Janis Nepshinsky."
Nepshinsky, responsible for visitor services at the animal complex, said she enjoyed showing off the shelters in Gilsdorf and was impressed with the question Gilsdorf asked on the side of her gray Mitsubishi Outlander PHEV.
"What feeds you? Repeated Nepshinsky. "Love it. That's a great question. What makes you tick? It's a question we should all be asking ourselves."
"It really got me going," she added. "It got me thinking about the connection of mind, body, soul and what we're trying to do at the National Wildlife Refuge… and what makes people volunteer."
"It is important to let people know what we are all doing and she [Gilsdorf] the fact, "Nepshinsky added." It was so amazing how connected she felt to Rhode Island. "
"I have met so many amazing people," said Gilsdorf. "Children, business leaders, environmental defenders. "
"I had been very sad about the state of things," she added. "But what I discovered is that there are people who take care of this planet. There are people who champion change, lead thoughtful lives and inspire others."
Barnes said the car, with enough towing capacity to pull his tiny home across the country, its all-wheel drive and "the best electric and gasoline powertrain of both worlds" enabled Gilsdorf to travel on clean electric power. and quiet or "have all the range she needed thanks to the easy-to-fill gasoline."
Aside from all the "amazing" people she met on her trip and all the uplifting stories she was able to share, Gilsdorf said there was something else learned that was very valuable.
"I love being minimalist," she laughed. "We really don't need a lot as much as we think."
Gilsdorf said she plans to end her trip in December, where it started: the Detroit Lakes.