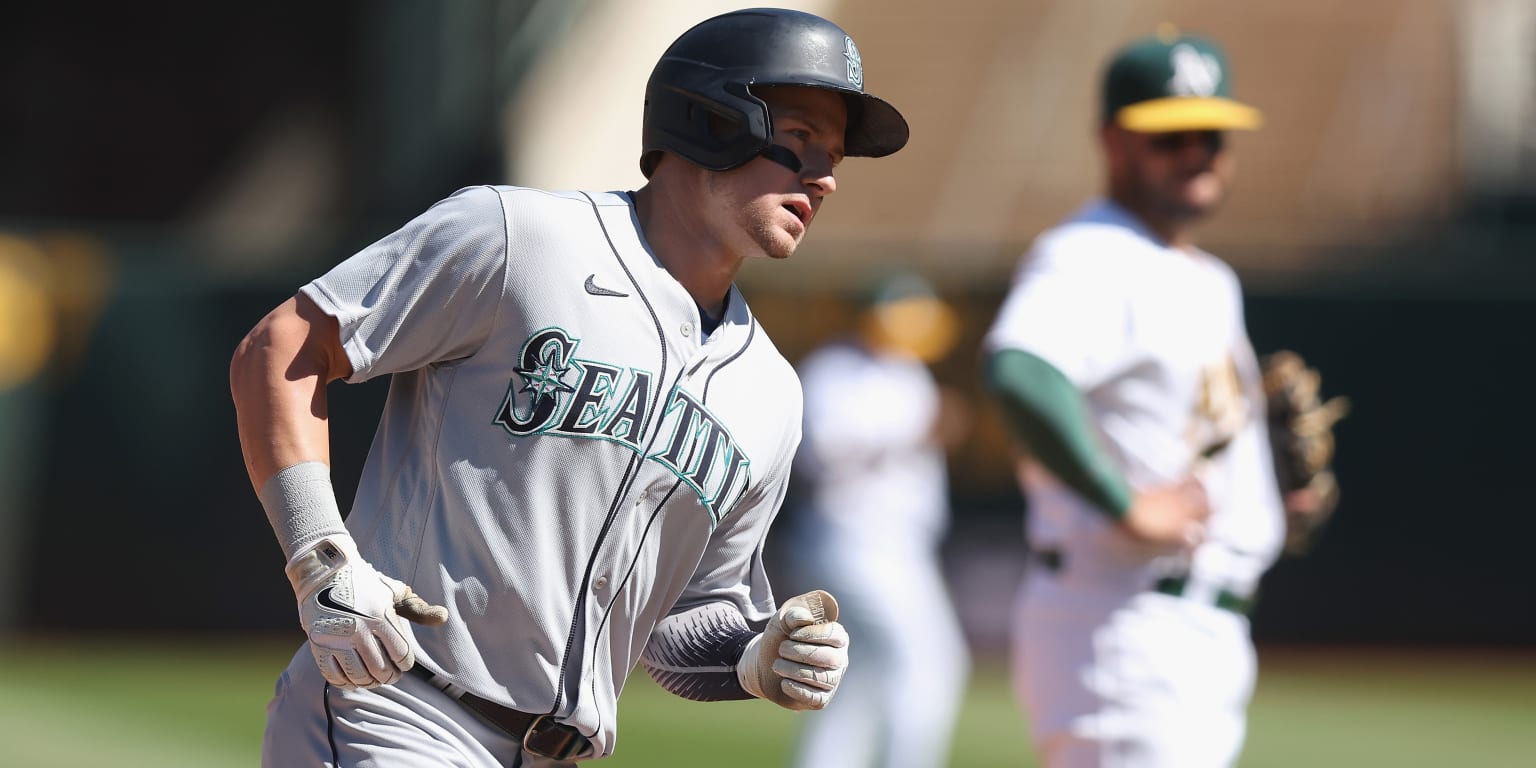 The Sailors managed nine runs in the eventual win over the A's
OAKLAND — It was a perfect day in Northern California on Thursday, ripe for the sky to fall squarely on the Mariners in what has been a brutal road trip.
Their best player came out in the first set with lower back strain. Their most consistent second-half starting pitcher had five runs and couldn't get out of the third. A loss would give a last-place team a sweep and bring their playoff hopes closer.
But in the last chapter of resilience in a season that has been rich, Seattle bounced back from adversity, both micro and marco, en route to a 9-5 win over the A's.
Julio Rodríguez's status is in doubt after aggravating the injury that sidelined him for three games last weekend. George Kirby also came out early, with a third-inning out, but for unusual difficulty and not for health. Still, Thursday's win encapsulates the type of attack the Mariners have when they're at their best, creating consistent traffic and receiving contributions from players beyond Rodríguez.
"We have guys who have done different things at different times in the season, but the strength is our team," manager Scott Servais said. "Saying that is leaning on the guy next to you and trusting the guy behind you to pass the baton."
Thursday was a great example of Servais' assertiveness, which he shared before the game.
Prior to Rodríguez's exit, the rookie started the game with a double at 109.1 mph and was one of six base runners to reach in the first inning, leading by three runs. Then, after Kirby worked with command and walked three for only the second time in his pro career, Jarred Kelenic got his momentum back in Seattle's favor with a massive 427-foot solo homer in the fourth.
But it was third place in sixth that changed things for good. Ty France started with his first triple of 2022 on the right field line, then Kelenic led it with a quick double to center field that tied the game. Dylan Moore was then intentionally walked and stole his 17th, which set up Adam Frazier to score a two-run brace from just inside fair territory on the third base line for two runs.
Why these moments stood out:
• Kelenic were down 3-0 and given the go-ahead. So instead of spitting on a suspended center slider from the Kirby Snead reliever, he let it rip and it led to a run.
"Great situation there," Kelenic said. "[Snead] kind of playing with me. I thought that would probably be the best pitch I was going to get this whole game. So when I got the green light, I looked for something above the heart of the plate, tried to stay in the middle, and that's what happened.
• Moore is arguably Seattle's second best baserunner after Rodríguez and Sam Haggerty, and one of its most instinctive players. He noticed Snead's long stride to the plate and stood up. Both TV shows didn't even interrupt Moore's run because it happened so quickly, and it put him in position to score for the next man to play.
"We were just trying to fight," Frazier said. "Obviously it's been a chore the last week or two, so a big situation right there. They walked D-Mo around then he stole a bag, so I knew they were going to come after me.
• Frazier's .236 batting average doesn't stand out, but his 87.4% contact rate (second highest on the team) certainly does. So when he fell to a 2-2 count with two out and the game was tied, he protected himself and hit a slider away from the plate in the opposite field. The ball only had an exit speed of 61.2 mph and a hit probability of 17%, but he will take it.
"Especially after swinging a 2-0 slider, I was like, 'Okay. Just stay inside the ball, kick the ball the other way and do whatever I have to do," Frazier said. "That ball wasn't on the plate, but I'm glad I got there."
As Servais stood on the mound to relieve Kirby in the third, he told the infielders that "it's going to be a crazy game", because of the back and forth and the many bullpen clashes that were approaching. It was the type of formula not too dissimilar to a postseason game, with so many moving parts — and just about every hitter contributed.
"You kind of need one of those games," Servais said. "It's not by the script. You mix and match. "How are we going to handle the bullpen? Who's going to knock? All these things. You get everyone involved and everyone feels a part of it, and then you go from there.