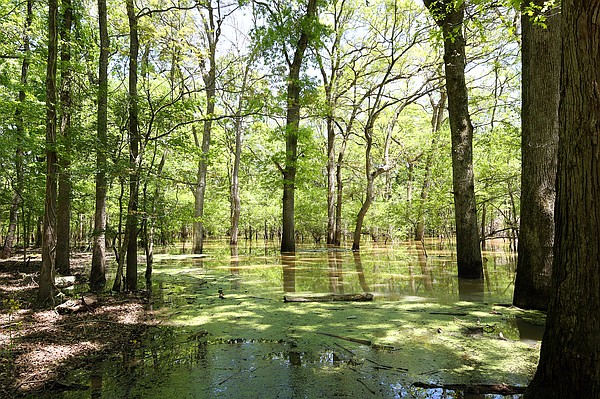 Visit to educational conservation center, enjoyable
Writer and outdoor photographer Corbet Deary is featured regularly in The Sentinel-Record. Today, Deary takes readers on a trip to the Potlatch Conservation Education Center in Cook's Lake.
I have a pretty good track record when it comes to recalling the general neighborhood of destinations I've written about over the years. In fact, I can still give the location of the places I traveled almost 20 years ago.
However, there are those places that for one reason or another escaped me. I didn't necessarily find them boring. They also weren't destinations that I suspected readers wouldn't enjoy.
In fact, today's text will focus on one of these places. I visited this particular place probably 15 years ago while collecting information for an article I was writing on hummingbirds.
I was fully aware that this facility was located near the White River National Wildlife Refuge. And I even undertook excursions with the intention of finding this destination. But I always came home empty-handed.
Video not playing? Click here https://www.youtube.com/embed/0A6wLC2VBHQ
But that all changed when I recently decided to visit the Potlatch Conservation Education Center in Crook's Lake. I had no idea that my search for the place that had haunted me for several years was almost over when planning my trip. And although the route became vaguely familiar as we approached, I still had no idea where we were going.
But to say that I suddenly felt a sense of accomplishment as I walked into the parking lot and recognized the facility would be almost an understatement. The quest was finally behind me.
As before, our visit was extremely informative and enjoyable. But first let's talk about the interesting history of the installation. Located in Cook's Lake, near Casscoe, the property was purchased from various landowners by the Lion Oil Company in 1947.
Of course, their intentions did not include drilling, as this part of the state is not known to produce oil. Instead, the company embarked on the construction of a 4,800 square foot structure that would be used primarily as a duck hunting lodge.
They maintained and used the property for three decades when they sold it to Mark Townsend. The Stuttgart native only retained ownership of the land for a short time and chose to sell it to Potlatch in 1971 with the understanding that he would retain his hunting and fishing privileges for the rest of his life.
Townsend died in 1997, giving Potlatch sole control of the property. The company sold 1,850 acres of Cook's Lake, a 2 mile long backwater, to the US Fish and Wildlife Service in 1999. It also chose to donate 72 acres to the Arkansas Game and Fish Commission Foundation.
The acreage donated to the AGFC Foundation included the lodge, residence, store, various other outbuildings and 65 acres of lowland deciduous forest.
And There you go. The Cook's Lake Potlatch Conservation Education Center came into being "through a memorandum of understanding between the US Fish and Wildlife Service, the Arkansas Game and Fish Foundation, and the Arkansas Game and Fish Commission."
The purpose of their agreement was twofold. The property would be preserved for the education of present and future generations, as well as for the benefit of native plants, fish and wildlife.
The agency project proved to be a success. In fact, the property offers a number of programs throughout the seasons, some of which are designed to provide a class setting, both indoors and outdoors.
These private lessons cover a wide range of topics that are integrated into the natural habitat of the facility. Participants may find themselves identifying macroinvertebrates they have collected from the environment, or they may be introduced to orienteering via a compass and GPS.
Students will likely enjoy learning about native animals using skeletal remains and skins, and they might find fun learning interesting facts about mastodons and other extinct animals, such as the woodpecker. ivory beak.
The establishment is also involved in providing other opportunities for young people. In fact, they offer activities where those who participate in Scouting programs can earn 15 different badges.
Located in Dale Bumpers White River National Wildlife Refuge, the Potlatch Conservation Education Center participates in an annual youth deer hunt.
Speaking of deer hunting, the establishment also participates in an annual deer hunt, specifically for people with reduced mobility.
The fact that the facility is dedicated to providing a setting where today's youth can familiarize themselves and develop a passion for the outdoors is more than enough to deem the education center worthy of our support, but it is important to know that it is not essential to be a member of a Scouting school or group to benefit from what they have to offer.
The establishment also welcomes the general public. And while those of us who choose to visit may not be aware of participating in a classroom, the opportunity to learn is still there.
In fact, it turns out that our last visit was during their annual hummingbird study. And I certainly left the institution much more educated on these beautiful creatures.
The kind lady at the education center was more than willing to share interesting facts and answer our questions. We even had the opportunity to observe her as she caught, collected data, banded and released one of these little birds into the wild.
But even if we hadn't visited during hummingbird season, we would have easily kept busy for a while, as various skins and skulls of native wild animals are on display.
But our stay at the learning center was only part of the experience. One could easily spend several hours by the lake. Those bringing a fishing rod could try their hand at casting in its murky waters from the fishing dock.
I haven't spent a lot of time fishing in this particular part of the state, but you would think that many of the species we catch here in Ouachitas would also thrive in the delta.
One is likely to cause a big mouth to bite, and I'm sure bream would thrive in this habitat as well. What about the catfish? I wouldn't hesitate to soak a night caterpillar or a piece of chicken liver. And I wouldn't be surprised if we caught a species or two that don't thrive in our part of the country.
One would also suspect that photography buffs might also be spending their fair share of time at the water's edge. I noticed several wading birds going about their daily rituals during our recent visit. And it could also prove to be a great place to settle during annual migration periods.
Although not an avid archer, I enjoyed learning about the 3D archery range. Various targets have been placed throughout the trail and would lend themselves to a challenging and enjoyable outing for those who participate in the sport.
Yes, I was certainly happy to reconnect with the Potlatch Conservation Education Center in Cook's Lake. And I am pretty sure that I will return to this particular destination in the near future.
To get to the facility from Hot Springs, take Hwy 70 east to Interstate 30 and head east toward Little Rock. Stay on I-30 for 27 miles and keep right on Interstate 440. Travel 6.8 miles and take Exit 7, onto Highway 165 towards Scott and England.
Travel 5 km and keep left to stay on 165. Travel 15 km and turn left on East Fordyce Street. Travel 25 miles and turn left onto A and D Road. Travel 9.2 miles and make a slight left onto River Road. Travel 1.5 miles and turn slightly left to stay on River Road. Travel 2.4 miles and turn right on Hwy 33. Go half a mile and turn left on Cook's Lake Road. Travel 3.5 miles to the destination.
Those who enjoy archery might find the 3D archery range at the Potlatch Conservation Education Center in Cook's Lake. – Photo by Corbet Deary from The Sentinel-Record