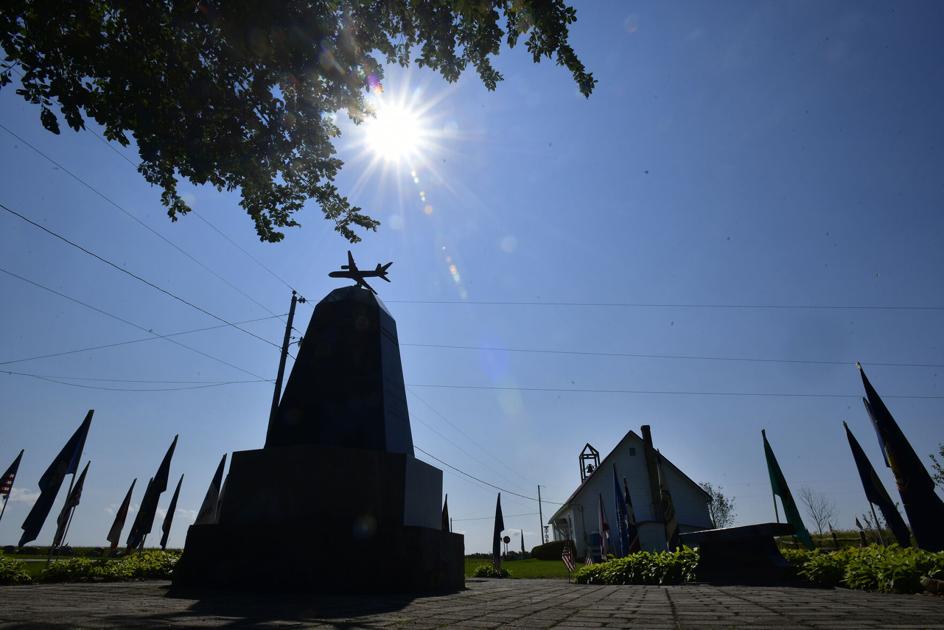 'We Must Honor These Heroes': Flight 93 Memorial Chapel Celebrates September 11 Anniversary | New
SHANKSVILLE, Pa .– Every Wednesday for over 12 years, Paul Angert has brought a trailer, tractor, push mower and grass trimmer to the Flight 93 Memorial Chapel located just 5 miles southwest of the National Memorial flight 93.
The Davidsville native cuts the grass and maintains the area around the chapel which was built to honor the 40 passengers and crew of Flight 93 who were killed on September 11, 2001.
He said it was the least he could do to preserve what was once an abandoned Lutheran church before the late Reverend Alphonse Masherino turned it into a building that now houses many artifacts and memorabilia.
"I got to know Father Al very well and I don't want to see the chapel close," Angert said. "I think if I can devote a full day a week to trying to run the chapel, that's what I want to do. I wake up at 5 a.m. and don't leave here until nightfall. There is a lot of work to be done here to maintain the chapel and grounds.
On Saturday morning starting at 10:03 a.m., as the plane crashed near Shanksville, the chapel hosted the 20th anniversary ceremony to commemorate the lives lost.
The event featured a thunder bell ringing for each of the 40 heroes, a chapel story by volunteer Carol Love, and various musical selections by special attendees Paul Ritchey, Danny Conner and the North Star children.
A memorial service was also hosted by ABP Ramzi Musallam as well as guest speaker Leanna Klotz Slater, from Somerset County and longtime United Airlines pilot.
Connie Hay, the chapel's oldest and longest-serving volunteer, said honoring the dead was more important than ever and highlighted how the chapel, which is completely strapped for donations, has become .
"We should never forget," said Hay, a resident of Jennerstown. "We must honor these heroes. Today is about them.
"For 20 years, these have only been donations. It's pretty cool. It's the kindness of people in the community and everywhere else. Sometimes it is beyond you. "
Each passenger and crew member is commemorated in a private room at the back of the chapel where candles and full page descriptions of their lives and personalities are displayed.
Outside the room, however, are various artifacts donated by the families of the heroes and other items donated to the chapel by people around the world.
A crowd of over 60 gathered in the main chapel hall to hear Slater talk about how the 9/11 tragedy changed his life after growing up about 10 minutes from the site.
"It's very, very important. It is my honor, "Slater said of the opportunity to return to his hometown and speak at the anniversary at the chapel. "It's been a tough 20 years. I should have gone a long time ago, but it's just a very difficult situation. I regularly go to memorials and the chapel here, but it is an honor to come back to my hometown.
The event has attracted many people who traditionally travel to Shanksville on the anniversary to pay their respects.
One such person is Cathi Rhodes, who was one of several hundred who attended Shanksville's 2002 Independence Day celebration where she participated in the town's "living flag" demonstration.
Rhodes, from Greensburg, remembers how powerful it was whenever her band marching in the Independence Day parade sang and felt the sheer thrill she felt.
This is one of the many reasons Rhodes, who is now a tour guide for the memorial, feels attached to the heroes of Flight 93.
"I just have a connection, one way or another," Rhodes said. "It's important for me as an American to know these 40 people and what they did. It's just very touching for me.
With as much support as the chapel receives, it will continue to be a tribute to all those who lost everything on that fateful day.
Hay said she knows what 9/11 means in a much broader sense for all Americans and how crucial it is to always remember it.
"I think it's just wonderful that everyone is stopping what they're doing and taking a day to honor these men and women who were good Americans," said Hay. "They didn't care if you were black or white. They didn't care what your religion was, whether you were male or female, Democrat or Republican. They got together and they took action.