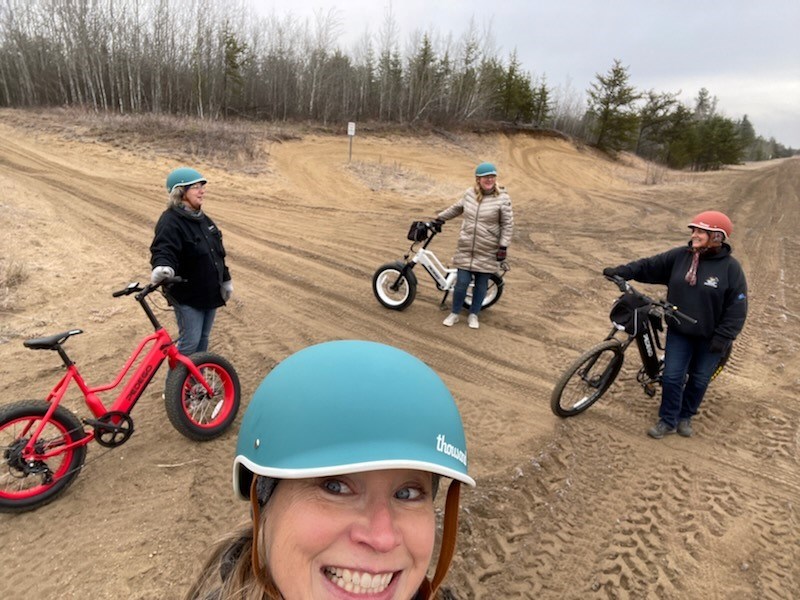 Work continues to make Lakeland a premier tourist destination
STEP and its partners are exploring the creation of e-bike rentals along the Iron Horse Trail.
ST. PAUL- Alberta's top tourist destinations are often listed as Banff, Jasper, or the Rockies in general, but local efforts are aimed at changing that.
Linda Sallstrom of the St. Paul/Elk Point Economic Development Alliance (STEP Alliance) wants people to visit the St. Paul and Greater Lakeland area when they need a weekend getaway.
"My vision is that I want St. Paul and the STEP region to be front and center as one of those places people would want to travel," she says, explaining that she wants people to know that "we have activities, destinations and accommodation here. That would be my goal."
Thus, the STEP Alliance has intensified its efforts to identify opportunities for the development of the region as a tourist destination.
Sallstrom says Travel Alberta is looking to double tourism in the province by 2035, which means increasing tourism outside of the Rockies.
So, "they are looking to other regions of the province" to develop. Travel Alberta has identified Lakeland as one of its 10 tourism "development areas," Sallstrom says.
She says the tourism strategy of STEP Alliance and Travel Alberta includes the development of the Iron Horse Trail.
Electric bikes
In a regional aspect, the STEP Alliance plans to build an e-bike network along the Iron Horse Trail with Pedego Edmonton, an Edmonton-based company that sells and rents e-bikes.
STEP Alliance members had the opportunity to try out the e-bikes on the Iron Horse Trail on October 31, to test the feasibility of building an e-bike network.
"We are really happy to say that the [electronic bikes] worked out really well," says Sallstrom, adding that the STEP Alliance is now looking forward to working with Pedego Edmonton to set up an e-bike network along the Iron Horse Trail.
Marianne Janke of Travel Lakeland Alberta has also tried e-bikes and says e-bikes "allow you to cycle and enjoy sections that are not normally suitable for cycling." Janke is also the administrative coordinator for the Iron Horse Trail and knows the trail system well.
"[We are] hoping to work with the Community Futures offices to create a partnership between local businesses and young entrepreneurs along the trail to have an e-bike rental network," Janke said, adding that connecting the trails will also enhance the visitor experience.
Connecting the trails, Janke added, is "ideal for taking visitors on exploring museums, art walks, architecture tours, picnic spots… They can park their vehicles and immerse themselves in the community".
Sallstrom says STEP will continue to look at other areas of tourism development in the region.